Brooms are vital for many clean-up operations in several industries. However, with the different types and bristle options available, choosing the right broom for the jobs ahead can be a challenge. Use this guide to help you find the broom that best fits your needs and get you the most value post-purchase.
Broom Success Largely Depends on knowing four key things:
---
Identifying a high-quality broom ATTACHMENT
The broom you purchase needs to have the required structural strength and quality components to withstand the stress that accompanies this type of work. A heavy-duty, high-quality broom will efficiently clean surfaces for many years.
Direct drive system
Direct-drive systems have fewer replaceable wear parts and are more powerful than other systems. Safety matters too; these systems are safer than mechanical systems because there aren't belt or chain pinch points. There also isn't any stored energy when hydraulic pressure isn't properly relieved.
Virnig brooms utilize direct-drive systems. These use fewer moving parts, which means less wear and tear and a longer lifespan.
Hydraulic Pressure Relief Valves
Pressure relief valves protect the motor and the loader's hydraulic system from pressure spikes. When the broom hits an object, the relief valves open to relieve pressure. This prevents seals or other internal components from damage due to excessive pressure.
Virnig brooms come standard with relief valves for protection against pressure spikes.
Guarded Motor
The motor is the most expensive component on a broom, so it's important to find out where it's made and how it's protected. Motors made in the USA will provide maximum reliability and longevity. A guard is an often overlooked but important feature. Look at how the motor is guarded and make sure it's easily accessible for maintenance.
Virnig broom motors are USA-made and are protected on top, front, and bottom with a ¼ inch plate welded to the motor can. The guarded design offers protection and easy access for maintenance. Additionally, the motor on the broom is sunk into the side about four inches, which makes it less likely to get hit by obstructions while sweeping.
Wafer replacement
Wafers will eventually need to be replaced, so ease of access and replacement cost are important to consider. Check the cost of replacement wafer kits before buying and ask how to replace them. Some may not be easily accessible and will take precious time to replace.
On Virnig brooms, bristles can be replaced quickly and easily without disconnecting the hydraulics. To remove the bristle core, simply unbolt and remove the hydraulic motor assembly, then unbolt and remove the shaft assembly and bearing to free the bristle core from the brush head.
Broom Head Adjustment System
A major cause of wear on skid steer bucket-style brooms is improper broom head adjustment. Many brooms utilize a bolt and nut adjustment. These systems can break or freeze in place when exposed to the elements and can be difficult to adjust evenly.
The Virnig adjustment system allows the operator to set bristle height with minimal downtime. Simply elevate the head of the broom from the bucket, remove the holding pin, and set the adjustment shaft.
overall weight
Look through the specs to find the overall weight. A heavier broom usually means heavier duty since the weight is likely attributed to thicker steel and additional bracing. Specifically, look at the hood and find the thickness and steel grade.
Virnig pick-up brooms weigh upwards of 1,200 lbs while other manufacturers' brooms are 800-1,000 lbs. Where does the extra weight come from? It comes from thicker steel throughout the broom and a heavier hopper bucket, creating a high-performance attachment.
---
Broom types/Options Available
The two most common brooms are the angle broom and pick-up broom. It's important to understand each style, how they operate, and where they are used.
Angle Broom
(Aka: power broom, rotary broom, sweeper, Street Sweeper)
An angle broom operates at an angle to the left or the right and sweeps snow, dirt, leaves, and other debris off the surface and away from the loader. They're commonly used on parking lots, driveways, streets, sidewalks, and factory floors. They're also used for light snow removal and select turf applications.
Keep in mind this style of broom doesn't offer any capture ability, and therefore may not be advantageous in applications where dust control is a priority. Generally, these won't be appropriate for indoor applications, or for use in residential neighborhoods where it could result in debris being pushed into yards or driveways.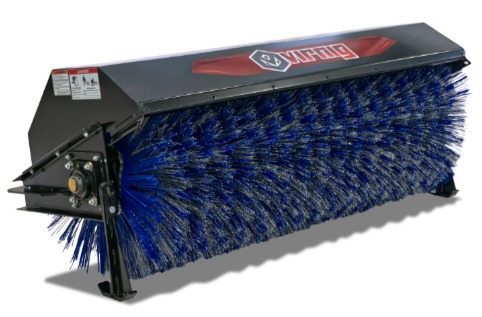 Options
Hydraulic angle
Allows the operator to change the broom angle from the comfort of the cab. An electrical connection is required for angle brooms with this option.
Deflector

Gives the operator more coverage from flying material and prevents over-spray of gravel and snow. It increases an operator's visibility by reducing the amount of airborne dust and debris. For jobs requiring dust control and increased operator visibility, a deflector is a great choice.
SKID STEER Pick-up Broom
(AKA: collector broom/sweeper, box broom, hopper broom, sweeper)

A pick-up broom not only sweeps but collects and dumps debris using a bucket attached underneath. They often feature a bi-directional motor that can operate in forward or reverse. This allows the operator to drive forward while collecting debris and to drive up to a building or loading dock and reverse the brush to collect debris while backing up. A pick-up broom is more appropriate for sites where the goal is the collection and removal of debris. They're commonly used in docks, warehouses, construction sites, roadways, factories, and sidewalks, and to clear parking of debris after the snow melts.
The simple design of the broom minimizes the amount of dust produced while operating. It works well in areas where debris cannot be swept to the side or where environmental laws and regulations require the suppression of dust. The design also reduces the chance of flying stones or debris that might damage nearby buildings or vehicles.
There are regulations to protect workers and the community, so erring on the side of greater containment and prevention may be your best bet. As a general guideline, a pick-up broom will be suitable for working on a broader range of job sites than an angle broom but will require a higher upfront cost.

Options
Water Kit

Waterless skid steer broom systems attempt to capture the dust and material within the structure of the pick-up broom, but it can be quite dusty. A rubber skirt around the base of a pick-up broom will help reduce airborne dust, but in most cases, it won't be enough. A water kit should be considered in situations where dust suppression is a must.
LOW PROFILE Water Kit
Low profile water kits feature a tapered tank which helps control dust without blocking the operator's view of the work area. Some competitors tanks lay flat on top of the broom, which means they can't fully drain and there isn't an area to route hoses safely. Virnig's low profile tank has space between the tank and hood so the tank can fully drain. Also, the operator can run hoses underneath it to protect them.
Water kits emit a mist that helps knock down dust, making the collected material heavier and stickier. These systems are effective, but add extra time and upfront cost to the equation: they require water storage somewhere on the attachment or machine (sometimes on the roof or on the back of the loader).

Gutter Brush
Pick-up brooms purchased for street sweeping applications are best complemented with a gutter brush for optimal collection of debris along curbs.
Pick-up Broom WITH INTERNAL
WATER TANK
A skid steer broom with an internal water tank controls dust without compromising visibility. The tank is protected and located in rear of the bucket for max visibility and better stability. Capacity indicators allow operators to see current water level while sitting in the cab. Virnig's internal tank is unique to the skid steer broom industry and is patent-pending.
Patent: virnigmfg.com/patent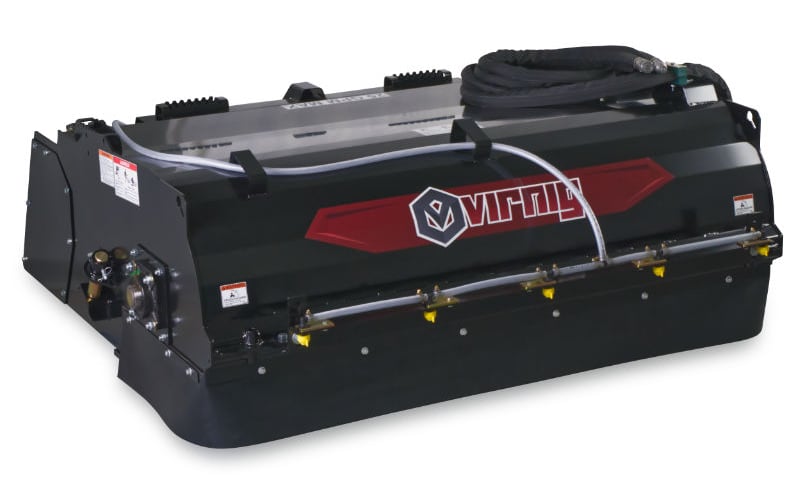 ---
Broom Bristle Options
All Poly Bristle Wafers
Used to "flick" loose material and provide the most sweeping power.
Poly bristles swiftly move material from the surface and are the least aggressive option — ideal for snow, turf applications, and any surface a contractor doesn't want to scratch, such as sealed concrete, cement floors, etc.
Alternating Bristle Wafers
The best all-around option for most jobs.
This option is more aggressive than all poly and better for dirt and debris on pavement. This works well on surfaces that can withstand a more aggressive brush – but it's not so aggressive that it will damage the surface. All Virnig brooms are equipped standard with alternating poly/wire wafers.
All Wire Bristle Wafers
Designed for the toughest sweeping conditions.
All-wire bristles aren't as common since they can be aggressive on surfaces. Wire bristles are used to "cut" material rather than "flick."
---
Matching A Broom To Your machine
Choosing the Right Width
A good rule of thumb is to select a broom with a sweeping width wider than the tires or tracks of your loader. But keep in mind, a broom wider than the tires or tracks may limit access to certain areas. Anything smaller than the tire/track width results in less surface area coverage — especially if it's an angle broom which, when angled 30 degrees, covers less area than when straight. For example, the sweeping width of a 72" Virnig Angle Broom (VAB72) is 72" when straight and 64" when fully angled.
Machine Flow Rate
All brooms come with an operating flow rate. You must know the flow rate of your skid steer hydraulic system as well as the minimum and maximum flow rate of the broom. The flow rate is typically listed in gallons per minute (GPM).
Virnig brooms are designed with a flow tolerance of 15-25 GPM. All hydraulic motors used by Virnig are rated with zero overflow tolerance. Operating at a flow rate higher than 25 GPM may lead to premature failure and will void the motor warranty.
Operating Capacity
Also, consider the loader's operating capacity. The broom should have a recommended loader capacity rating that matches or is lower than the loader operating capacity. Always refer to the attachment's spec table to see if the attachment will work with your machine.
---
Broom Operating Tips
Only use brooms on compatible loaders. Consult the loader manual for flow and pressure specifications.
Sweep with the wind, whenever possible, to provide efficient operation and keep debris off the operator.
When sweeping on rough terrain, reduce machine ground speed to minimize "bouncing" of broom head.
Avoid excessive weight on the broom wafers. Brooms sweep with the tops of the wafers; therefore, the sweeping contact pattern should be about 2-4 inches. Unnecessary weight promotes excessive wear and premature failure of wafers.
Don't change rotation direction of the broom without allowing the broom to come to a complete stop. Doing so may cause premature failure of components. Quickly changing rotation from forward to backward to forward may cause damage to drive components and/or the motor.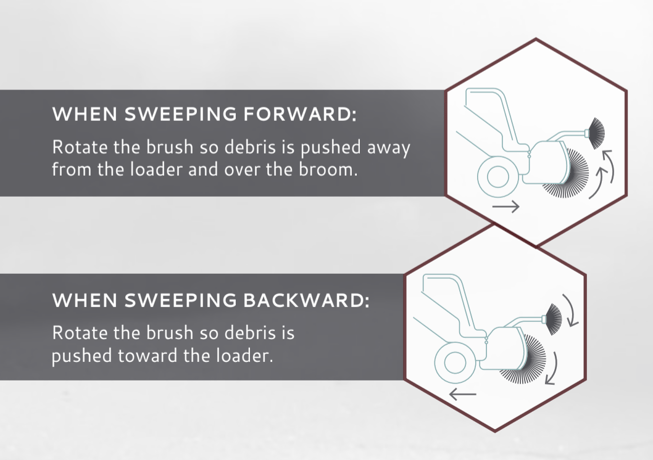 ---
Broom Maintenance/storage tips
Maintenance:
Check the manual to see what needs to be greased and how often.
Check for wear on wafers. If the outside diameter is one half the original diameter, the wafers need to be replaced.
Check for loose, worn, or missing parts and repair/replace as needed.
Remove any foreign debris such as string, wire, or other objects that may have wrapped around the brush head.
Inspect motor, valves, hydraulic fittings, and hoses for leaks and damage. Make sure machine is shut off and hydraulic pressure is relieved before checking for leaks. Never use hands to check for high-pressure hydraulic leaks.
Storage:
Don't store polypropylene brushes in direct sunlight because this can cause the material to deteriorate and crumble. Also, store in a dry place.
Place brooms on blocks or storage stands to avoid putting excess weight on the brush. This weight will deform bristles, greatly minimizing sweeping effectiveness.
---
Virnig Broom Attachments
If you'd like to learn more, you can request a quote or find a dealer near you.
Located in the heart of Central Minnesota, Virnig Manufacturing has been designing and producing skid steer attachments since 1989. From engineering and cutting raw materials to machining, welding, and painting the finished product, all steps of the manufacturing process are done in-house by experts.
The skid steer attachments' major components are manufactured with the latest technologies to yield a product that continually outperforms the competition.
The product line is backed by a 1-year warranty and an ongoing customer support system. Plus, Virnig carries over 40,000 attachment parts that are in stock and ready to ship the same day an order is received.